Der Initiator und Leiter des Projektes, Heinz Aeschlimann, der als  Mentor und Coach für die Nachwuchskünstler da ist, blickt mit Freude und Begeisterung auf die letzten 13 Jahre zurück: Dieses Artist in Residence Programm, "Young Artists" ist wie auch die anderen art-st-urban Projekte, auf finanziell unabhängiger Basis aufgebaut, wir werden dabei in sehr Verdankens werter Weise von Donatoren mitunterstützt.
2012 haben wir dazu den Verein "art-st-urban - Förderung junger Künstler" gegründet. Wir sehen uns als Türöffner für die jungen Menschen, zeigt ihnen neue und praktische Wege auf, die sie befähigen sollen, eine eigenständige, unabhängige Karriere als Kunstschaffende aufzubauen und zu verwirklichen.
Es benötigt von uns einen grossen persönlichen und auch finanziellen Einsatz, der sich aber überaus lohnt, wenn wir die Weiterentwicklung der ehemaligen Stipendiaten mitverfolgen. 60% von Ihnen bekleiden inzwischen eine Stelle als Dozenten an Kunstinstitutionen und mehrere sogar eine offizielle Professur an anerkannten Kunstakademien, oder sind als freischaffende Künstler inzwischen regional und national Ihrer Heimatländer gut abgestützt.
Der fortbestehende, ausgezeichnete Kontakt mit den "Ehemaligen" hat sich zu einer sehr freundschaftlichen Verbindung mit den jungen Menschen entwickelt und alle bestätigen, dass ihr Residency Aufenthalt in der Schweiz für sie ein "eye opener" war, ein wichtiger Meilenstein in ihrem künstlerischen Leben. Diese überprüfbare und wertvolle Nachhaltigkeit dieses Förderprogrammes ist das Ziel von art-st-urban.
Mit Ihrer Unterstützung helfen Sie mit, dass wir den jungen Nachwuchskünstlern diese einzigartige Aus- und Weiterbildungsplattform anzubieten, um ihre ehrgeizigen und fokussierten Ziele zu erreichen.
Wir danken allen, die dieses grossartige Projekt mitunterstützen sehr herzlich.
Link: https://www.funders.ch/art-st-urban
Einige Stimmen ehemaliger Stipendiaten des art-st-urban Förderprogramm für Jungkünstler:
Angie Sekyora (Artist in residence 2014, back 2015)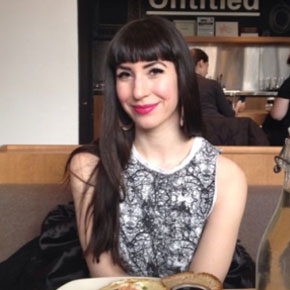 Angie Sekyora (Artist in residence 2014, back 2015)
...I thank you and Heinz for everything, I feel that you have both given me such an incredible platform to create my work, promote my work, and have a strong clear vision to achieve my goals. I don't believe I would have had as strong of a portfolio or application without your support and help. I hope this is the first of many more grants and awards in my future.
I miss you, Heinz, Switzerland, the atelier, and the gussasphalt dearly! How is everything going? Are you and Heinz still traveling to China a lot (Heinz probably is quite a bit with the bridge nearing completion)? Will there be 2 new artist's in residence at art-st-urban this summer? I think of you both often and I truly hope our paths cross again very soon.
Luke Achterberg (Artist in Residence 2010, back 2013)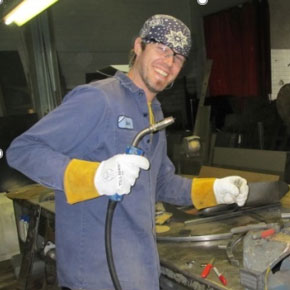 Luke Achterberg (Artist in Residence 2010, back 2013)
First, thank you for finding yet another way to promote our careers. I appreciate it greatly. As for the St. Urban Residency; it has influenced the way I organize my studio time, increasing my efficiency. Heinz has really shown me how to increase my productivity as an artist. As well, St. Urban has introduced me to several artists that I may have otherwise not known about. (Please thank Heinz for the books he gave me this last time, they are fantastic.) My time at St. Urban allowed me some freedom to explore new materials (such as asphalt) and to step outside of my normal studio practice, this is very important to me as an artist. It is very refreshing. And lastly, it has had a major influence in financing my artist studio here in Lexington, Kentucky. And I can't thank you both enough for that.
Nils Hint (Artist in residence 2012)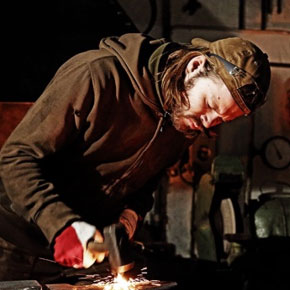 Nils Hint (Artist in residence 2012)
...The experiance what I gained from Heinz has proved itself wery handy relationships with my students. I feel more self confident when I want something get done. I also expect them to work more because the influence from Heinz. Durig the spring semester I dont have a class in Academy but I still teach blacksmithing in technical school. My students there are young and its sometimes quite hard to keep order in things but they really like me and the work.
Ali della Bitta (Artist in Residence 2005, and back several times)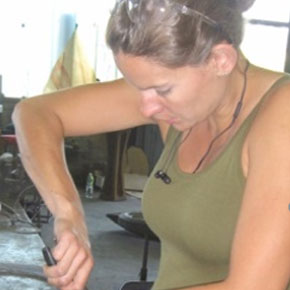 Ali della Bitta (Artist in Residence 2005, and back several times)
We have so many fond memories with you both and have enjoyed getting to know the many facets of your lives over these years. It's funny to think of how long we have known each other, and it reminds me how fast the years pass by. You have seen so much of mine and Drew's life together and I agree you and Heinz are family.

We are grateful for everything you have done for the both of us, and sorry for the times we have added to your already stressful lives. You are both so giving.
We are both so grateful to you, and Heinz. I hope that you are enjoying the holidays. And Happy New Year! It's exciting to think of what 2016 will bring.
With love, Ali and Drew
Drew Goerlitz (1st Artist in Residence and back several times)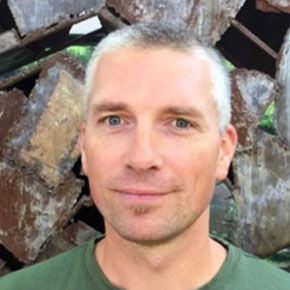 Drew Goerlitz (1st Artist in Residence and back several times)
...In 2003 when I was the ISC (International Sculpture Center) Outstanding Student Achievement Award winner , I was chosen by Heinz and Gertrud Aeschlimann to be the first student in residence at art-st-urban YOUNG ARTIST program, which they founded same year. Over the last twelve years now , I have watched the growth of art-st-urban and the Young Artist Program . This would not be possible without Heinz's passion for making sculpture, and his unflagging energy. He is a prolific sculptor, dedicated mentor, and successful entrepreneur. His support of young artists has opened doors for many students, not only traveling abroad, but through life experience. As a mentor and role model for emerging artists he is an example of dedication to art, generosity, and work ethic.
Sculptor, entrepreneur, mentor, philanthropist, engineer… to only name a few, Heinz Aeschlimann is a man who wears many hats. Over the last decade of getting to know Heinz I am always amazed at his dedication and energy. He is in constant motion. He is in constant thought. Heinz's ingenuity and creativity can be seen in his many endeavors whether it is in business or the sculpture studio. His quiet curiosity and contemplation of all the processes and materials around him inspire his art. He is a role model to all of us who have been lucky enough to take part in the Young Artist Program at art-st-urban.
Donka Angatscheva (Pianist, Artist in residence 2010, and back several times)
Donka Angatscheva (Pianist, Artist in residence 2010, and back several times)
A few years ago Heinz Aeschlimann, whom I didn't know then, approached me after a concert to ask me if I could also play Liszt... It was a magical encounter and the beginning of a long and beautiful friendship that has lasted to this day.
With his deep relationship to and love for the piano and the music by Ferenz Liszt and his great efforts to promote young, talented artists, he has given me great strength to believe in myself, to work on myself and to make my dreams come true.
With his ever-generous support, with his belief in my abilities and his huge heart, Heinz has so strongly influenced my growth that I have actually developed an entirely new dimension of skills within myself. With art-st-urban, he and his wife Gertrud have created the ideal platform to give young and highly talented artists like myself wings to fly.
I have enormous respect for this man!