Donka Angatscheva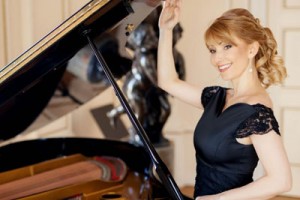 Ein perlender Wirbelwind am Klavier, eine feinfühlige Musikerin mit exzellenten technischen Fähigkeiten und grosser pianistischer Kraft – so wird die junge Künstlerin sowohl von renommierten kritikern in der Wiender Zeitung und in der Luzerner Zeitung im Musik & Theater als auch von etablierten kollegen (Artemis Quartett) begeistert charakterisiert.
Donka Angatscheva, aus Wien, mit bulgarischen Wurzeln, ist eine begnadedet, Pianistin, die mit ihrer Ausdruckstärke sehr berührt. Sie  musste sich ihren Weg nach oben hart erarbeiten und gibt, obwohl selbst noch in jungen Jahren, Ihr Können und Wissen, und vor allem auch ihre Lebenserfahrung an junge Pianisten aus der ganzen Welt weiter. Die Künstlerin konzertierte in bedeutenden Musikzentren und bei renommierten Festivals weltweit, u.a. im Wiener Konzerthaus und im Musikverein, in der Tonhalle Zürich, im Palais des Beaux Arts Brüssel und immer wieder in St. Urban. 
Die Pinistin ist auch eine begnadete Musik Pädagogin, sie arbeitet als Dozentin an der Amadeus International School Vienna und Vienna Conservatory. Zudem ist sie eine begehrte Jurorin an diversen internationalen Jugend Klavier- und Kammermusik -wettbewerben.
Derzeit initiiert sie ihr neuestes  Projekt, den  Beethoven Jugend Klavier-Musik Wettbewerb. Immer wieder voluntiert sie auch für Kindermusikschulen, Jugendkonzertanlässe, gibt Meisterkurse für Musikschüler, sowie lanciert sie immer wieder diverse Projekte mit jugendlichen Musikern. 
Im Rahmen des art-st-urban Förderprogrammes  hat sie bereits Klavier Meisterkurse für den Verein zur Unterstützung minder bemittleter begabter Musikschüler aus dem Baselland erteilt.
Sie selbst ist seit Jahren ständiges Mitglied und Teilnehmerin von "Life Music Now", dem internationalen Verein, gegründet von Yehudi Menuhin, zur Förderung junger Musiker. Viele heute weltberühmte Musiker waren als junge Studenten bereits mit dabei und unterstützen die nachfolgenden Generationen.
A whirlwind at the piano, a sensitive musician with excellent technical skills and phenomenal pianistic expression — this is how the young pianist is celebrated both by critics of the Wiener Zeitung and Luzerner Zeitung as well as by renowned musicians such as the Artemis Quartet.
Born in Plovdiv, Bulgaria, Donka Angatcheva Maraszto made her debut as a soloist with the Plovdiv Philharmonic Orchestra at the age of ten. A pupil of Maria and Diana Slavova as well as Milena Mollova (a student of Emil Gilels), Angatcheva won numerous awards at international piano competitions from an early age.
She completed her studies with Heinz Medjimorec, a member of the Haydn Trio, at the University of Music and Performing Arts in Vienna. Angatcheva's artistic development was heavily influenced by master classes with musicians such as Ludmil Angelov, Boris Romanov, Catherine Vickers, Peter Efler, Tiny Wirtz and Oxana Yablonskaya. During her studies Angatcheva received numerous awards at music competitions and was an active member of Yehudi Menuhin's Live Music Now Foundation for highly talented musicians.

Angatcheva was also the face of Steinway's advertising campaign on Austria's Pro7 television channel and is regularly invited to perform for television including for ORF, Servus TV and Art CH. Her debut solo CD for Global Private Equity with works by Chopin was presented in Paris and Vienna by Radio Stephansdom.

She performs frequently with her ensemble, Trio d'Ante, including at Vienna's Musikverein in 2006 and 2010. Angatcheva also performed together with the Ecuador Philhamornic Orchestra in Quito and held a piano master class at the Franz Liszt Music Conservatory in Quito. Angatcheva completed her chamber music studies at the Queen Elizabeth Music Conservatory in Brussels, where she studied with the Artemis Quartet. Together with Trio d'Ante, Angatcheva has recorded several CDs with works by Piazzolla, Enrique Arbós, Chopin, Liszt, Rachmaninoff and Shostakovich for the Gramola label in Vienna, each receiving the "CD of the Week" award by Austria's Ö1 Radio.